The following general guidelines apply to all UCCS visual communications (print, digital, online, outdoor, display, etc.) For specific information regarding the UCCS fuels SUCCESS marketing campaign, see the Marketing Campaign Standards.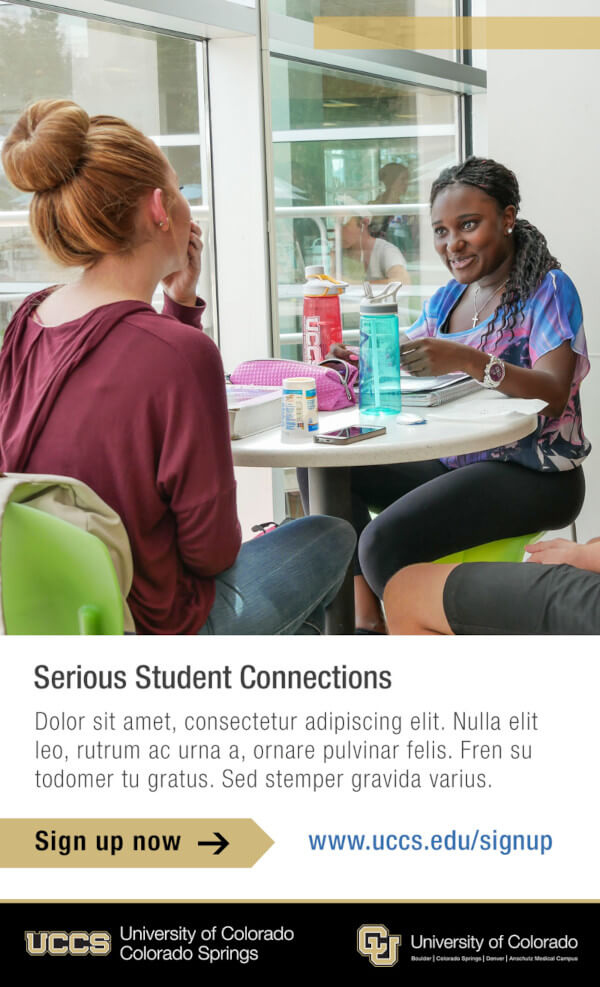 Brand. All visual communications should reinforce the UCCS brand. Use of the correct logos, typefaces, colors and messages are the basic building blocks of the university brand.
Visual identification. ALL visual communications must include 1) a UCCS logo and a CU System logo, and 2) the official UCCS colors. The easiest way to accomplish this is by reserving the bottom of the material for the brand logo elements. The presence of the UCCS logo signifies that the communication is officially from the university. Consider it a "signature" signing the document as official. Often at the bottom, in a modest size with reasonable clear-space, against a branded or neutral-color background, typically separate from the rest of the content. (Never mix in other organization logos.) See Logo Usage section for more details.
Unit identity. Use a headline or text to indicate the school, program or department doing the communicating. Use a unit-specific signature extension in place of the UCCS logo only when the need to identify the unit is more important than the university.
Layout. Clean, uncluttered and vibrant, with clear information hierarchy. Whenever possible, use grid alignment to ensure objects line up, both vertically and horizontally. Prioritize legibility. 
Content. Make headlines and body copy engaging, succinct and easy to digest.
Photography. Use visuals that reinforce content and messaging. Single, powerful images are stronger than multiples or collages. Always use photos that are authentic and credible. See the Photography section for more.
Graphics and design elements. Use design elements that are a strategic fit for your intended audience, and are connected to the brand and marketing campaign when applicable. Various design elements and assets are available upon request.
Call to action. Clearly state the action you wish the viewer to take.
Visual Guidelines Sections